You're viewing 1-8 of 8 products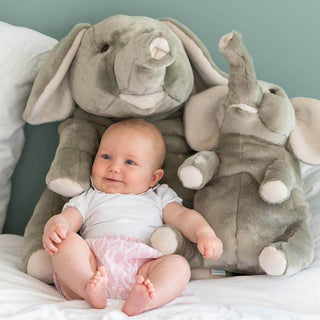 Best-selling collection The soft toy
Discover our birth collection!
Specially designed for newborns and toddlers , our first cuddly toys are friends for a lifetime . They are present in the first moments of comfort and totally adapted to small hands. Unisex they will delight girls and boys .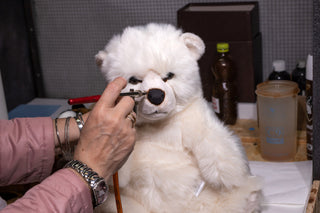 More than just toys
Designed as true works of art
Our seamstresses put their hearts into designing these first and most perfect stuffed animals, with their very soft and hypoallergenic fabric and quality details. Our birth collection forms a family of the most irresistible for a first cuddly toy. Do not hesitate to collect them for even more softness around your crib.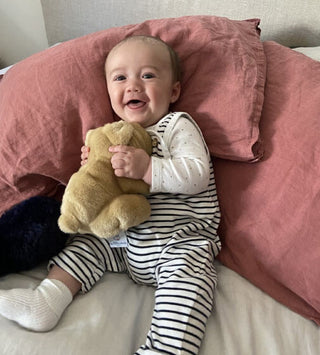 friends for life
You will find that they are extremely clean companions, which you will only need to rinse with water if your child takes them on too messy adventures!
La Pelucherie is the ideal birth gift that you can complete with the birth kit and benefit from the customization of the embroidered pouch .
Learn more
Looking for the perfect gift for a newborn? You are in the right place ! Here, you will find a multitude of newborn soft toys that will accompany your baby from his first days.
Birth soft toys will see your child grow during their very first phase of growth and will help them discover the world around them. That said, when choosing a soft toy for your newborn, there are a few important things to consider, as not all soft toys are suitable for all ages. We invite you to discover now:
What are the ideal soft toys for newborns?
Why are cuddly toys important for newborns?
How to repair birth fluff?
How to store birth stuffed animals?
Let's go !
How to choose the right newborn soft toy?
All parents want to find the perfect soft toy for their babies. Unfortunately, it is complicated for newborns to testify to their desires and preferences. So you have to make the decisions for your child. That said, by following our advice, you will be able to choose the ideal soft toy for your baby, depending on his age.
You just have to be careful not to choose soft toys that can pose a danger to the baby and opt for those that can be useful to him in his development. Of course, after a while, your child will be able to communicate and help you make those choices. Here, we offer you some ideas that will allow you to find thebest plush for baby.
The best newborn baby soft toys
Unlike babies a year and older, newborns interact with the world around them primarily through the sense of touch. Here we offer you a series of birth soft toys that have the most interesting features for newborns:
Rabbit plush
Our Leon Rabbit soft toy is one of the soft toys that meet the conditions required in soft toys from birth. Its fur does not risk causing allergies and its solid constitution will prevent any risk of asphyxiation if the stuffed animal were to fall on your child's face. The latter is also robust and it is not likely to tear quickly.
Teddy bear
Teddy bears come in a wide variety, both in design and size. In the case of a newborn, it is preferable to buy him a small stuffed animal, which does not risk suffocating him by falling on him and which he can handle easily. It is therefore interesting to turn to our Jules Bear Plush Toy, which comes in several sizes. With this bear, you will be able to follow the growth of your baby by giving him a plush suitable for his size, as he grows.
If you prefer to give your baby more original soft toys, you can opt for our Ladybug Lily soft toy. It is also a series of ladybug soft toys in different sizes (15cm / 22cm / 40cm), which are very popular with children.
small plush
As mentioned above, the smallest stuffed animals are ideal as newborn stuffed animals. Thus, our Lucie Mouse plush can be an ideal choice for your baby. Thanks to its small size, it is one of the lightest on the market. It will therefore be easy to handle for your child and the latter will have no trouble taking it in his arms.
In this same context, our Hedgehog Alfred soft toy can also be an excellent choice. It exists in pairs, with a fairly significant difference between the two stuffed animals. You will be able to have fun observing your baby's behavior and deducing when he will be able to tell the difference between the two stuffed animals. This will allow you, at the same time, to follow the evolution of his sensory and cognitive development.
What are the benefits of birth stuffed animals?
When parents buy soft toys for their newborns, they limit their selection criteria to the visual aspect. Yet theawakening soft toysare much more than adorable objects to put in your child's arms. Here, we will take a look at the unique qualities of newborn stuffed animals:
Birth soft toys reassure the baby
As noted above, newborns begin to interact with the world through touch. Indeed, being still too young, they cannot yet detect and understand the objects around them. Moreover, they can only recognize their parents thanks to the sense of smell.
Since touch plays an important role in the daily life of newborns, the newborn soft toy you choose for your baby must be especially pleasant to the touch. This will allow your baby to recognize his soft toy easily and his presence at his side will not fail to reassure him.
Birth soft toys help the baby develop
When your baby touches a soft toy from birth, he reacts to the texture of his fur. After a while, he will know how to recognize it and he will try to handle it with his hands. At first, he will try to put it in his mouth, since the latter also allows him to analyze the different textures. Then he will try to turn it over and lift it, which will allow him to assimilate the concept of gravity and weight.
Naturally, this will have the effect of instilling in him some principles of physics, such as action which inevitably leads to a reaction. All of these allow your baby to effectively develop their senses and cognitive skills.
The positive effect of birth soft toys on the social development of the baby
It goes without saying that all soft toys have a positive impact on children's moods. This is also true for cuddly toys when it comes to babies. They can therefore play with their stuffed animals and will eventually become attached to them over time. This attachment is the first bond that a baby can establish after the one he has with the members of his family. It therefore allows him to live what comes closest to a bond of friendship and this will certainly be useful to him later, when he engages in activities with children of his age.
The Newborn Soft Toy Cleaning Guide
Cleanliness is an essential condition to guarantee the good health of your baby. Indeed, the immune system of the latter needs a lot of time to reach a good level of maturity. In the meantime, you must make sure to expose it to a minimum of risk. Of course, the idea that we are defending here is certainly not to isolate it completely, because such an approach risks being counterproductive.
However, it is still important not to let your child interact with dirty objects. It turns out that stuffed animals have a tendency to collect dust and retain dirt. For this reason, you should make sure toperiodically clean the plush from birthof your baby. Here are your options and how to proceed:
Wash your baby's newborn soft toy
Washing is certainly the most accessible alternative for cleaning your baby's newborn stuffed animals. These are small in size, which means you can easily wash them in your washing machine. If you don't have a machine, you can also wash them by hand. In either case, do not use hot water, as hot water can contribute to lint degradation. Furthermore, it is strongly recommended to use a neutral detergent. Finally, it's important to let the stuffed animals air dry, but avoid exposing them to strong sunlight.
Here, we show you all the steps you need to follow to properly wash newborn stuffed animals by hand:
Detach all detachable elements from the birth plush
Place the plush in a sink or sink filled with moderately hot water and pour some detergent over it
Rub the newborn plush gently until the stains disappear.
Apply a one-way motion to avoid damaging the plush
Wash the newborn plush with clean water and rinse until the detergent is completely released from the plush
Use the absorbent wipes before leaving the plush to dry in the sun (it is possible to use a dryer to speed up the process, but exposure to the sun is still important, as it kills dust mites, among other things…)
Here is what absolutely must not be done when washing the newborn soft toy:
Leave detergent on the plush (this may put your baby at risk of poisoning)
Use a lot of detergent (it complicates the rinsing operation)
Wash the plush while it is torn (the plush may lose its stuffing and become more damaged)
Use absorbent paper wipes (the paper tends to degrade quickly and it is difficult to remove all the pieces of paper that remain stuck to the plush
Use a dryer at high heat to dry the newborn plush faster (heat can accelerate the degradation of the fur of the plush)
Dry clean the newborn plush
Dry cleaning is an interesting option for removing dirt from your child's newborn soft toy. This method is rather easy and it is especially recommended to use it with the most fragile stuffed animals. Indeed, with the latter, we do not advise you to use your washing machine or even wash them with water by hand, as they may deteriorate quickly. That said, before proceeding, get these essential dry cleaning tools:
A container large enough to hold the stuffed animal
A small amount of baking soda
wipes
A simple brush
It is obviously undeniable that after a while, the soft toy from birth will be so dirty that it could well constitute a risk for the health of your child. Before that happens, remember to dry clean it, by following these few steps:
Put the plush on a waterproof surface
Locate the dirtiest spots on the plush and cover them with baking soda
Scrub the stains with the brush and let the lint air out
An hour later, shake the plush to remove the baking soda powder
How to decorate the baby's room with birth stuffed animals?
Unlike giant stuffed animals, birth stuffed animals can be easily used to decorate your baby's room. No matter if the latter is small or large, you will surely find original ideas to decorate it. Do not hesitate to take inspiration from those we offer here:
Hang newborn stuffed animals on the walls of the baby room
Since newborn stuffed animals are generally smaller than regular stuffed animals, they also weigh considerably less. This means that with a minimum of fasteners, you can hang them on the walls of the baby's room. Try to choose stuffed animals that have colors that match the theme of the room.
You also have the option of hanging a group of stuffed animals in a large basket. Seeing all those poking heads out of the basket is sure to put a smile on your guests' faces.
Place stuffed animals on shelves and in empty corners of the nursery
If you have empty shelves, you can fill that space using your baby's stuffed animals. Since these are quite small, you will have no trouble creating space for them.
To bring a touch of originality to the design, consider placing some stuffed animals in hidden corners of the room. This will certainly surprise those who take the trouble to carefully consider the decoration of the room.
Now you know more about baby soft toys! In general, babies understand and discover the world more easily through their soft toys. Also, we have shown that newborn soft toys can be excellent decorative elements. So you can buy as many as you want, without risking cluttering your baby's room.
At the house ofThe stuffed animal, you will find many collections of soft toys corresponding to all ages.All our stuffed animalsare manufactured with the greatest care, because our priority remains to offer you quality products that will last over time. If you're out of inspiration and still don't know which plush to choose, don't hesitate to take a look atour bestsellers!