You're viewing 1-9 of 9 products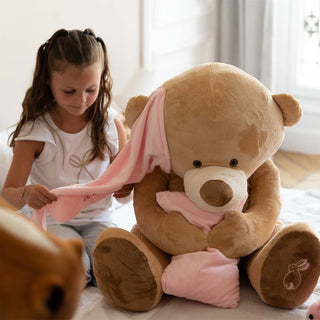 La PElucherie best-selling collection
Adopt a teddy bear for life!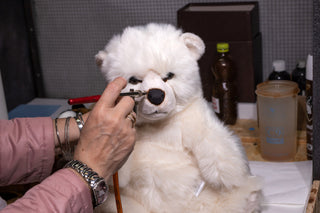 More than just toys
Designed as true works of art
With their soft fur, their silky hair, their unique expressions and their varied sizes, you can place one of our teddy bears in a child's room, a relaxation area or a playroom.
Our teddy bears are sewn with love by our Italian craftsmen, carrying out a true work of craftsmanship on the fabric, sewn and cut by hand, bringing their creation to life through the fine details of the face, the sculpture of its muscles or the movement of its limbs.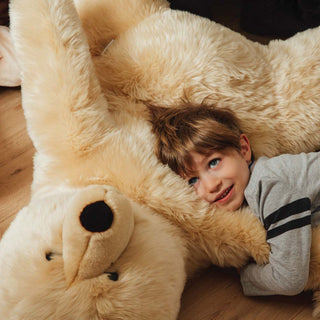 Easy to maintain
You will find that they are also extremely clean companions, which you will only need to rinse with water if your child takes them on too messy adventures!
Whether you want one of our teddy bears to make it your child's playmate, or a decorative object in your living room, our teddy bears will create a welcoming atmosphere that will delight the youngest!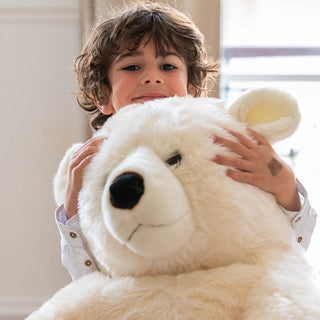 +115,000 SATISFIED CUSTOMERS
The ideal gift for young and old
Giant cuddly toy or small cuddly toy, birth gift or playmate, our bear cuddly toys will bring happiness and tenderness to your home!

And if you want a little diversity in your home, take the opportunity to consult our other plush collections, allowing our teddy bears to rub shoulders with our dogs , rabbits or felines !
Learn more
Come and discover our collection ofTeddy bear! Whether you prefer theGabin brown teddy bearor theLucien white teddy bear, whether you need a cutelittle teddy bearfor your newborn or on the contrary of agiant teddy bearTo cuddle your child, La Pelucherie offers you to choose your family's companion(s) from a vast catalog of teddy bears, each cuter and cuddlier than the next! With theirsoft fur, their hairsilky, their unique expressions and varied templates, you can place one of ourteddy bearsin a child's bedroom, lounging area or playroom. You will also find that they are also extremely clean companions, which you will only need to rinse with water if your child leads them into too messy adventures! But more than just toys, ourTeddy bearare sewn with love by our Italian craftsmen, carrying out a true work of craftsmanship on the fabric, sewn and cut by hand, bringing their creation to life through the fine details of the face, the sculpture of its muscles or the movement of its limbs . Whether you want one of ourTeddy bearto make it your child's playmate, or a decorative object in your living room, one of ourTeddy bearwill create a welcoming atmosphere that will delight the youngest!
Looking to gift an authentic, premium teddy bear to your kids?
If so, you've come to the right place! You will find within this collection a multitude of haute couture models, made from solid materials and with unique know-how.
Let's now discover the secrets of this iconic model in the world of plush!
Modern teddy bears: quality and variety
It is obvious that with the evolution of technology and the continuous development of know-how, modern teddy bears are of significantly higher quality than those of yesteryear. It is enough to closely examine one of these soft toys to testify to its undeniable quality and its unparalleled finish. Naturally, the best stuffed animals are more expensive, but the cost is offset by the quality of the product.
How to define the quality of teddy bears?
As we stated above, there are a variety of teddy bears on the market. However, it is important to know that some poor quality stuffed animals, which may include toxic materials, are generally a health hazard. For this reason, in order to preserve the health of your children, you must imperatively check the quality of the stuffed animals that you offer them, especially if you are thinking of acquiring agiant teddy bear, because the latter contains more matter.
Here is a list of the major elements that can help you recognize premium teddy bears:
CE certification (this means that the product meets European standards)
Polyester fabric (it does not cause allergies and is particularly soft)
The homogeneous padding (which does not leave empty space and which follows the shape of the plush)
To recognize polyester, simply remove a few hairs from the plush and burn their tips with a lighter. Hold the burnt end with your fingers and observe the trace it leaves. If you find a brown pasty texture, it means that it is indeed polyester.
When you control the making of plush, you have to do it with your own hands. This allows you, among other things, to check the fur and finish of the product. Under no circumstances should it have disqualifying defects, such as:
Parts not covered with fur
Easy to pluck hairs
Uneven colors
Poor quality padding
Fragile stitches
You can check theupholstery qualityfolding the plush for a few seconds. If the latter quickly returns to its original shape, it means that the padding is well done. Furthermore, it is possible to identify good padding by touch. It should be soft and snug at all levels. Its consistency should remain the same, regardless of the body part of the plush. You can do this check by using both hands to simultaneously squeeze two limbs of the plush.
Regarding the stitches, it is important that their number remains limited. They must also be placed in specific places, such as the connection points between the limbs and the body of the plush. The design of the stitches is also important. If you notice irregularities in the lines drawn by the stitches, this can be considered a defect to be taken into account.
Finally, it is essential that the thread used to make the stitches is tight. To do this, you just need to bend one limb of the plush several times and try to pull the thread a little. If the plush is of good quality, you shouldn't see the yarn come undone or break.
A wide variety of teddy bears
At the house ofThe stuffed animal, we seek to constantly innovate in order to offer you a wide choice of plush. This is why you will find a multitude of quality teddy bears in this collection. Moreover, the demand for teddy bears continues to grow every year. We are constantly looking to bring something new, while offering the best possible quality.
Other plush models are also very popular. We can cite the example of sleeping soft toys, which are created with the aim of keeping children company during long nights. These soft toys are often equipped to prepare the child for sleep. They can wear pajamas or hold their own pillows. They also come in multiple sizes, to provide more options for kids and parents alike.
Do you know the fascinating history of teddy bears?
Teddy bears are probably the toys children of all ages love the most. They exist in many forms and can be found all over the world. They are also the first stuffed animals to be mass-produced in the industry. By the way, the toy is extremely popular even with the adult audience. It is also found on sweaters, dresses, wallpapers, etc.
It's certainly not easy for everyone to realize that teddy bears have been around for more than a century. Indeed, these toys were created in the United States and Germany, practically at the same time, at the very beginning of the 20th century, in 1902, more precisely.
When US President Roosevelt went on a hunting trip between Mississippi and Louisiana, he was unable to find any predators to hunt. In order to remedy the situation, one of the officials brought in a baby bear and tied it to a tree to make it an easy target for the president. While we can't really know what happened next, according to urban legend, it seems that Roosevelt refused to shoot the bear cub, because the animal was completely defenseless and that the fact of killing him under such conditions was devoid of heroism.
Naturally, this story made the rounds of the country and many found it particularly charming. Among the latter, we find Cliffrod Berryman, who is known in the entertainment world and who decided to transcribe this story into a cartoon, under the title ofRoosevelt and the Bear.
During the same period, the first teddy bears were born. They were created by Morris and Rose Michtom. That said, their original purpose was never commercial. They simply had the idea of ​​paying homage to Clifford Berryman by placing the plush next to an image of the bear from his cartoon. They were therefore equally surprised when they found that many customers came to see them with the aim of buying the plush. This is how they came up with the idea of ​​producing more copies of the plush in order to sell them.
Meanwhile, in Germany, a disabled woman named Margarete Steiff started a business producing soft toys. Among the latter, we find the famous teddy bear. The female entrepreneur also had no idea of ​​selling teddy bears. According to her, it was her nephew Richard who convinced her to add them to her catalog at the last minute. Richard happened to have a passion for bears and he had no doubt that teddy bears were going to be a hit.
Steiff, meanwhile, was not entirely convinced. For that, it was necessary to wait until his company sold more than 3,000 copies in the United States. In just ten years, until the start of the First World War, the German company sold more than a million teddy bears. It is therefore obvious that the company launched the production of the teddy bears without really anticipating their popularity. Steiff soft toys are characterized by the fact that they have buttons attached at ear level.
As you can see, it's unclear whether the very first teddy bear was German or American. That said, considering the circumstances that led to the creation of the plush, it's more than certain that both creations are authentic and their legacy is still enjoyed by the vast majority of the public. As products, teddy bears have also evolved considerably.
It is for this reason that they have been able to remain popular, for more than a century. Now you can find them in all colors and sizes. As the toy industry continues to evolve towards sophisticated, technology-dominated concepts, teddy bears have always held on to the success of their early days.
What you don't know about teddy bears
As mundane as they may seem, teddy bears have a lot of interesting stories to tell. Here, we present the most curious and bizarre facts about them:
Some time after the sinking of the Titanic, Steiff's company made 500 teddy bears to commemorate the tragic event. The bears in question were black and had red eyes to show they were crying. While they might seem quite macabre, collectors covet them. Today, a copy is worth nearly €20,000.
The character ofWinnie the Pooh, which is one of the most popular stuffed animals in the world today, is inspired by a real bear. His story is that of a Canadian soldier who decided to buy the bear cub that a hunter found during the First World War. This is how the bear cub became the soldier's pet. Gradually he gained popularity among the soldier's colleagues and he eventually became their mascot. They named it Winnipeg, and it was later hosted by the London Zoological Gardens. The writer who created the work of Winnie the Pooh (Christopher Robin Milne) loved this story so much that he decided to name the Pooh for his main character.
The largest teddy bear in the world was created in the United States in 2008. If you ever visit the country, and more specifically the state of Kansas, you can find it at Exploration Place in Wichita.
The stuffed animals have their astronaut. Indeed, when the Space Shuttle Discovery took off in 1995, there was a teddy bear on board. The latter played the role of education specialist during the mission, since it was a project of one of the preschools in Colorado. The teddy bear has been around the world, even going as far as the South Pole.
Collectors and lovers of teddy bears are called arctophiles. Etymologically, this word is made up of the following two Greek terms: arcotos, which means bear and philos, which means the one who loves. Among the world's most famous arctophiles is Paul Greenwood, who is an American multi-millionaire. The latter currently has the largest collection of teddy bears, the value of which is estimated at more than 1 million euros.
Japanese tech giant Fujitsu has created a robot teddy bear for adults. He is able to perform basic gestures, and even engage in simple conversations.
As you can see, the stuffed animal industry has come a long way since the creation of the first teddy bear. The quality of these products has never been so good, especially when it comes to certified stuffed animals.
At the house ofThe stuffed animal, we have been offering all kinds of high fashion plush toys for over 50 years. Among them, you can find ourBirth Cuddly Toysor ourGiant Stuffed Animals.
Giant plushOrsmall plush, birth gift or playmate, our teddy bears will bring happiness and tenderness to your home! And if you want a little diversity in your home, take the opportunity to also consult ourother plush collections,allowing ourTeddy bearto meet ourdogs,rabbitsOrfelines!