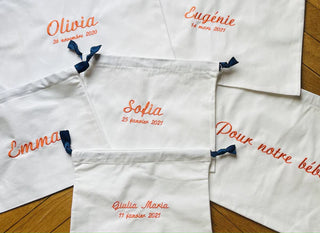 the attention that makes all the difference
Personalization of the pouch
All our hand-sewn stuffed animals are delicately wrapped in a pretty pouch before being sent to you. However, you have the possibility to personalize this pouch by writing the first name or the date of your choice for a more personal packaging. The customization of this pouch is a handmade embroidery in a 4 day delivery time.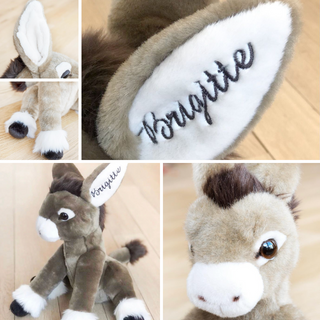 a gift for life
Custom embroidery
In addition to personalizing your pouch, you can embroider the child's (or adult's) name or initial directly on 10 of our stuffed animals: on the paw of the bear Lucien , in the ear of Gaston the donkey and on the cap of the dodo bear and many others! You can therefore decide to embroider the first name of your choice on these three stuffed animals.
This is a meticulous work carried out directly in our workshops on the plush which requires a delay of 3 weeks .