You're viewing 1-16 of 16 products
A corner of jungle or savannah at home
Change the scenery with our wild animal soft toys coming straight from Africa and Asia.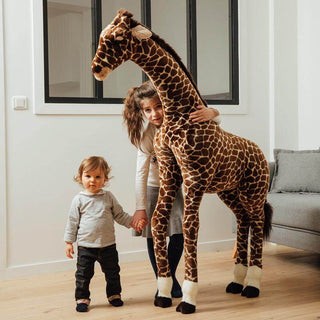 Our wild stuffed animals
Designed as true works of art
Our customers love them
Breathtaking realism
These stuffed wild animals can evoke warm and green landscapes in the child's room or the playroom where you choose to install them.
But rest assured, they will prove to be much easier to maintain than the originals, a few brush strokes being enough to easily clean their soft and silky fur.
And a simple rinse with water will be enough for them to recover from the adventures in which your child may lead them.
The ideal birth gift
So let your children play and have fun with these exotic companions, or give it as a birth gift to watch over your newborn! Finally, don't hesitate to take a look at our other stuffed animal collections that might surprise you.
Learn more
So that your children can sleep in good company, you will need to find a sweet and tender friend, who will be able to accompany them during their nights. So, what better than to offer them a wild plush?
Our wild stuffed animals are distinguished by their high-end quality and are known to bring an incomparable feeling of comfort. Let's see now which wild soft toy would best suit your child by detailing each of them!
Please note that our wild stuffed animals are generally larger than standard stuffed animals.
Let's get started without further ado!
Our wild stuffed animals
Our catalog has a large number of wild stuffed animals. These are available in several sizes, and you can choose the ones that suit you best, according to your expectations and your desires. Here you will find all the essential information about each wild plush model.
My Lion Melchior plush
Our stuffed animal with the effigy of the king of the savannah exists in two different sizes (40 cm and 60 cm). While lovers of giant stuffed animals will certainly appreciate it for its ideal dimensions and the quality of its manufacture, children will undoubtedly find the comfort they need in it. Thanks to the Lion Melchior soft toy, they will have nothing to fear. The plush can serve as their protective companion, who will not hesitate to cover them with hugs in order to reassure them.
My Caesar Tiger plush
The lion may be the king of the savannah, but in reality it is not the strongest animal. Indeed, the tiger is today considered the most powerful feline in the world. This is already an instructive and interesting little lesson that you can teach your children when you give them our Caesar Tiger soft toy. The latter exists in two different sizes (35 cm and 55 cm). The soft toy is ideal for anyone who prefers to have a slightly smaller companion than the Lion Melchior soft toy. Be careful though, even though it is slightly smaller, the Tiger Caesar plush has at least as much love to offer. It is also distinguished by the exceptional softness of its fur as well as by the quality of its finishes.
My Zélie Panther soft toy
The excellent manufacturing quality of our Panther Zélie plush makes it a decorative object of first choice. Indeed, it is possible to use it to decorate, not only the children's room, but also the whole house. You just need to find the best places for it where it can be placed as a decorative element. That said, even if you plan to integrate the stuffed animal into your decor, don't hesitate to let your children play with it. We are extremely confident about the durability of our stuffed animals and are committed to repairing them, should they accidentally get damaged.
My Wolf Gaspard plush
My Wolf Gaspard soft toy is a high quality soft toy that you can buy in two different versions. There is the elongated version which exists in two sizes (30 cm and 45 cm), and the seated version which only exists in 30 cm format. The plush has a particularly soft fur and its stitches follow near-perfect lines.
My Victor Elephant plush
The high quality filling of the Elephant Victor plush allows it to be durable, while maintaining its flexibility, which makes it ideal for big hugs. The plush comes in two different sizes (25 cm and 48 cm). While the larger version is ideal for decorating children's beds, the smaller version is considerably more practical for babies, as they can handle it much more easily. So make your choice according to your needs.
My Panda Sam plush
While it is still only available in a small format (28 cm), the Panda Sam plush remains extremely popular with small children. This cute and affectionate soft toy is sure to please your children thanks to its adorable design and particularly soft fur.
My Koala Félicien soft toy
Like pandas, koalas are among the most adored animal species in the world. The Koala Félicien soft toy is available in two different sizes (50 cm and 30 cm). You can have fun creating a cute little family of koalas. Their seated position will allow you to group them together for great photos with the children.
My Marcel Monkey soft toy
What other animal than the monkey will bring the biggest smile to your children? The Monkey Marcel soft toy is not only adorable, but it is also funny. Our site offers you the plush in two different sizes (20 cm and 35 cm). While the larger model offers the best hugs, the smaller version is perfect for going out. Now, if you're going to take your kids on long trips, you know which stuffed animal you should take with you.
How to choose your wild plush?
The choice of a plush must essentially depend on the quality of its fabric, its solidity and its aesthetics. After all, no one would want an ugly or damaged stuffed animal, except perhaps your pet. Among the most important selection criteria for soft toys are:
The quality of the fabric and the constitution of the wild plush
A plush worthy of the name must absolutely be soft and tender. This not only allows it to be pleasant to the touch, but also to be resistant to different attacks. Indeed, stuffed animals that are too rigid are damaged much more easily, in particular because of their padding which is often too tight. For these reasons, manufacturers find themselves constantly in competition, in search of the best fabrics to use in the manufacture of soft toys.
Linen, cotton and wool are the most used fabrics in the manufacture of stuffed animals, especially when it comes to a large size stuffed animal. It is therefore important to choose the base material that best suits the users, the choice is quite varied, especially in terms of colors. Of course, it remains a personal choice and everyone takes what they like.
However, since your children's skin is almost always more fragile than yours, it is important to ensure that the material that makes up the plush is hypoallergenic. This means that it respects nature and has not undergone long transformations with chemicals. The hypoallergenic material considerably limits the risk of developing allergies. In order to ensure the safe use of soft toys, you must ensure that they are cleaned and maintained on a regular basis.
The maintenance of wild stuffed animals
The best wild stuffed animals are the ones that are easiest to clean. Even if you only use your wild stuffed animal for decorative purposes, you will have to clean it periodically to ensure that it stays clean and does not cause you any inconvenience. Indeed, dirty stuffed animals can be dangerous for your health and that of your children. In addition, poorly maintained stuffed animals risk deteriorating much more quickly, in particular because dirt weakens their fabrics and makes them significantly more vulnerable to attack.
Quality stuffed animals should be washable by hand or machine wash if you prefer, and at a high temperature, minimum 30°C and maximum 60°C.
The soft toy should ideally be washed at least once a month depending on how dirty it is. Regular washing is also a guarantee of well-being for you, your children and your pets.
If your wild stuffed toy were to tear, tell yourself that this does not necessarily signify the end of its life. In most cases, you will be able to stitch it up, either by hand or using a machine, and preserve its shape and appearance. In most cases, fluff tears at the seams. To fix them, simply put the stuffing back in place and sew up the torn part using the strongest thread available.
Note that you should never pass the needle through the same holes of the old stitches, as these are often worn out and may easily widen. To avoid this problem, try placing your new stitches between the old ones. If this is not possible, you can tighten the padding a little bit or loosen it, in order to get away from the old stitches. As a final solution, add fabric inside the plushie and glue it to the back of the torn fabric. All you have to do is sew everything together to obtain an impeccable result.
Wild stuffed animals: perfect gifts for all occasions
Whether it's for Christmas or for a birthday, wild stuffed animals make wonderful gifts. Ideal as decorative elements, they can be placed next to the tree or in a corner of the room. Children who receive wild stuffed animals as a gift will be delighted to have them, especially for their large size. They are ideal for giving the biggest hugs and children love them for this reason too. These soft toys are not likely to lack affection to give, in all circumstances.
On the other hand, wild plushies have always been popular and this trend doesn't seem to be slowing down any time soon. They are perfect for forging emotional bonds, especially for children who are going through difficult times, which prevent them from socializing as they wish. The reasons for this may vary from one child to another, but among the best known and most recurrent in today's society are frequent moves.
Indeed, children who frequently change cities generally have more difficulty finding a place among their new classmates. By giving them a wild plushie, you allow them to continue nurturing their social skills and also save them the risk of becoming introverted. It also has a healthful effect on the physical health of children who will feel fitter and want to participate in physical activities and games much more often.
Wild stuffed animals can come in the form of several animals. Here are some examples of the most common stuffed animals:
Elephant
Lion
Wolf
Bear
Lazy
Penguin
Shark
Tiger
Koala
Dinosaur
Zebra
Giraffe
As you will have understood, wild stuffed animals are much more than simple toys in the eyes of children. They can actively participate in the education of the little ones and you can easily use them as decorative elements to beautify your home. It is also possible to use them to revitalize your pets, and even integrate them into their training program.
Wild stuffed animals also make wonderful gifts that are suitable for all occasions and will undoubtedly satisfy young and old alike. The best wild stuffed animals are those that are created from hypoallergenic materials, which do not promote the development of allergies. Don't forget to wash your stuffed animals periodically to prevent them from accumulating dirt which can expose you or your children to the risk of illness.
Find in this collection the best wild stuffed animals ofThe stuffed animal, manufactured by us. Many other animal stuffed animals are available, includingSea stuffed animalsor even theBear Stuffed Animals.